Visual and Performing Arts
Art is one of the universal languages all human beings understand and use to communicate. We use art to understand who we are, our places in the world, and the meaning of our lives. We use art to express ourselves and to speak to others across time and place.

Involvement in the arts is associated with gains in math, reading, cognitive ability, critical thinking, and verbal skill. Arts learning can also improve motivation, concentration, confidence, and teamwork

2020-2021 Choir Auditions

You are invited to audition for Rosemead High School A cappella Choir for the 2020-2021 school year! Online auditions are now open.

The deadline is May 13

.

Please note - Current RHS choir students do not need to complete this process. New choir students may join Aeolian Choir without an audition. Chamber Choir is open to current RHS A cappella Choir students only.

Audition instructions:

3. Once you feel comfortable, please record yourself singing with the part recording on flipgrid. Make sure I can hear your voice over the voice on the recording. Be sure to let me know your name in your submission.

4. Please email Mrs. Gray at

ruth.gray@emuhsd.org

. If you have trouble with flipgrid, you may email a recording directly. Please let Mrs. Gray know if you have trouble with recording or if you have any questions.

5. In your email, please include the following:

Your name, grade, and id#
Your approximate GPA (you need at least a 2.0 to join A cappella Choir).
Explain why you want to join A cappella Choir
List any previous musical experience you have had.

Thank you so much! Have an awesome day!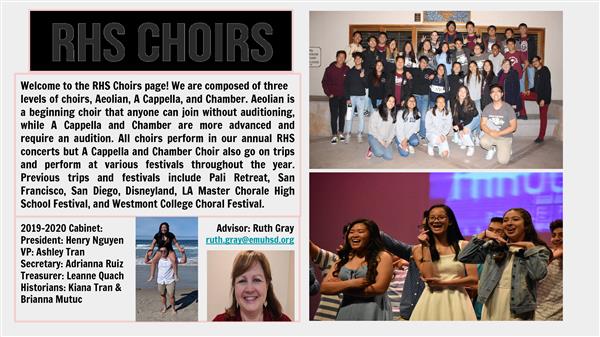 Contact Us Here:

Rosemead High School
Visual and Performing Arts
(VAPA) Department
9063 E. Mission Drive
Rosemead, CA 91770
626-286-3141

Department Chair:
Ruth Gray
ruth.gray@emuhsd.org