Rosemead High Academic Decathlon team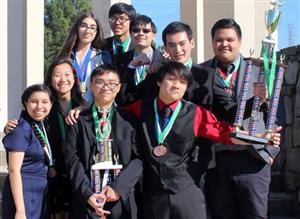 RHS Aacademic Decathlon Team took 5th place overall in Los Angeles County to become the highest scoring team of the five schools of the El Monte Union High School District.

The nine members earned a total of 34 medals, including a 3rd place trophy in Super Quiz. The county competition involved 40 official teams and 15 junior teams from 26 school districts.

For the second time in District history the team also qualified for the state competition to be held in Sacramento on March 22-24.

Way to go team, good luck in Sacramento!