Return to Headlines
Protecting Physical/Emotional Well-being During Pandemic; Housing Resources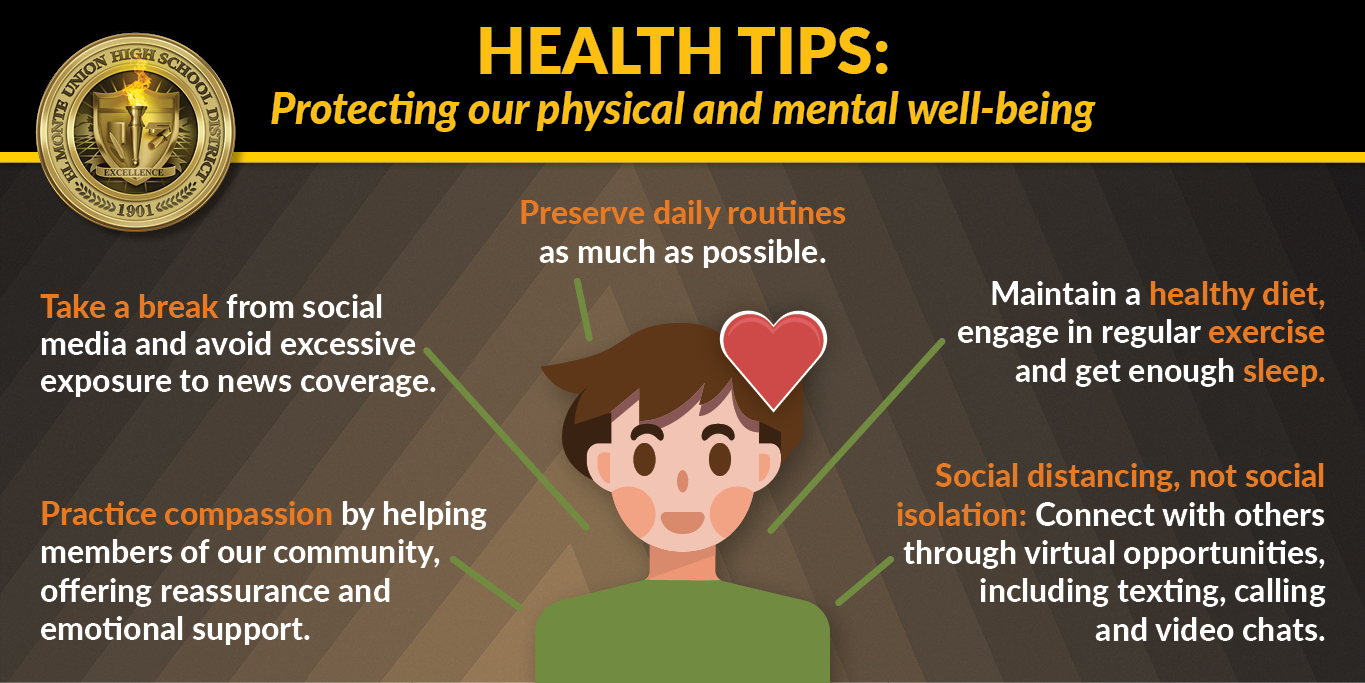 Students, parents and educators are learning to deal with a new normal of social distancing, home confinement and remote learning.
With a 24-hour news cycle focused on the COVID-19 outbreak, it is important to take a break and care for one's emotional, physical and mental health and well-being. Finding ways to cope and create stability are key to maintaining a healthy outlook.
Below are some mental health resources and support:
Alma Family Services: website or call 323-526-4016
Almansor: 213-607-4430
D'Veal Youth and Family Services: website or 626-216-6751
Enki Health and Research Systems: website or 626-227-7014
Foothill Family: website or 626-993-3000
Maryvale: website or 626-263-9133
Pacific Clinics (General Mental Health/Substance Abuse): website or 626-254-5000
Spiritt Family Services (General Mental Health/Substance Abuse): website or 626-442-4788
Bridges (Substance Abuse): website or 626-350-5304
LA County Dept. of Mental Health: website or call its 24/7 hotline at (800) 854-7771
Teen Line: (800) 852-8336 or text TEEN to 839863 (6pm-10pm)
Crisis Text Line: text LA to 741741
National Suicide Prevention Lifeline: (800) 273-8255
Kaiser Permanente Behavioral Health Care Member Help Line: (800) 900-3277
LA County Psychiatric Mobile Response Team (PMRT): (800) 857-7771
Disaster Distress Helpline: (800) 985-5995 or text "TalkWithUs" to 66746, or visit its website.
Housing:
Volunteers of America: website
Pacific Clinics - HOPE Center, 12001 Ramona Blvd, Suite 1, Irwindale, (626) 337-3828
Casa Youth Shelter: website, for 24/7 crisis call support or intake, call (800) 914-CASA (2272)
Call 2-1-1 for FREE: website, a 24/7 information hotline with resources for adults and youth in L.A. County, such as housing, public benefits, health and wellness, legal services and more
Access the District's Health Resource Book, which provides telephone numbers and website addresses for local community resources, emergency hotlines, and family service organizations, through the city of El Monte and beyond.