Return to Headlines
EMUHSD Senior Earns Honorable Eagle Scout Ranking from Boy Scouts of America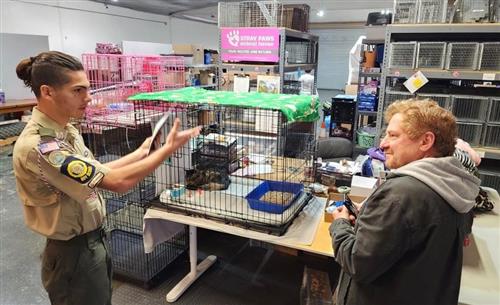 Arroyo High School senior Degas Peters (left), connects with members of Stray Paws Animal Haven to provide details for his Project Abbie feral cat shelters as part of the selection process to earn his Eagle Scout ranking.
Arroyo High School (AHS) senior Degas Peters' unwavering love for his community, passion for leadership and dedication to improving the feral cat community have earned him recognition as an Eagle Scout, the highest ranking awarded by the Boy Scouts of America ®.
Peters is an active member of the AHS campus community, including the track and field and cross-country teams, and has forged long-lasting connections with District staff and teachers who have encouraged and supported him throughout his journey as a Boy Scout. He also received several letters of recommendation highlighting his academic achievements and involvement.
"Seeing our students accomplish great things is an incredible reminder as to why we show up every day," AHS Principal Gabriel Flores said. "We are very happy to hear of Degas' accomplishment and look forward to seeing all that he will achieve as he continues his journey here at AHS and beyond."
As one of many components to the Eagle Scout selection process, which includes receiving 21 merit badges, displaying leadership and outdoor skills, and excellent demonstration of Scout Oath and Law, Peters took on a community beneficiary project called Project Abbie, which focused on building community cat shelters and waterproof, insulated housing for stray cats.
The project was close to home for Peters, who fosters rescued cats and has witnessed firsthand the effects of animal homelessness. Peters said that by helping improve the lives of feral cats, he is making a difference in his community.
"This has been many, many years in the making. It means wonders to be honored with such a high rank as Eagle Scout, while being able to help provide shelter for our furry friends in need," Peters said. "I would like to credit my success to my parents and family, who have shown unwavering support for all my endeavors. I will remember this moment for the rest of my life."
Upon graduation, Peters hopes to attend Cal Tech, Stanford or the Colorado School of Mines and pursue a Doctorate in Geological Engineering. Having been involved in the Boy Scout community since he was six years old, Peters said he has learned invaluable leadership, comradery, and group learning skills that he believes will aid him as he enters college and pursues a career.
"On behalf of the District, congratulations to Degas on achieving the prestigious Eagle Scout ranking," Superintendent Dr. Edward Zuniga said. "His dedication, leadership and commitment to community service exemplify the values we hold dear at El Monte Union and his recognition will serve as an inspiration to all our students."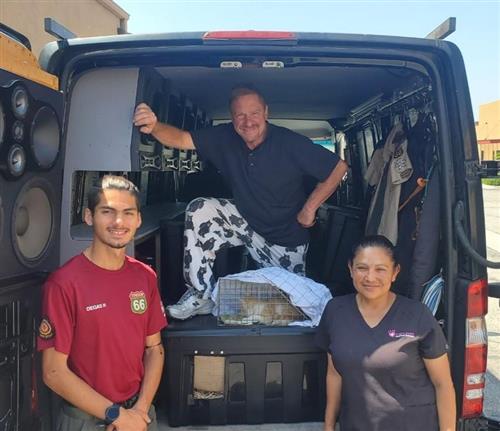 Arroyo High School senior Degas Peters (left) proudly showcases one of his Project Abbie feral cat shelters he built with members of Stray Paws Haven as part of the selection process to earn his Eagle Scout ranking.