Return to Headlines
3 El Monte Union Employees Honored at 2019 ACSA Golden Apple Awards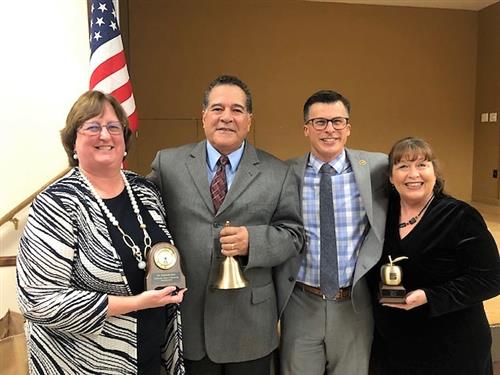 Three El Monte Union employees were honored at the 2019 Association of California School Administrators (ACSA) Region 15 Golden Apple Awards ceremony in May for being exemplary school leaders whose dedication and support contribute to positive schools, students and families.
El Monte-Rosemead Adult School Principal Dr. Deborah Kerr received the West San Gabriel Valley Administrators Association Leadership Award; Arroyo High School receptionist Ronda Logan received the Golden Apple Award; and Program Administrator Erix Oliva, who is retiring this year, was honored for his 31 years of service to the District.
"Each of these extraordinary education professionals represent what each of strives to do every day at El Monte Union, which is to provide support to our students and create a school culture that is welcoming and inclusive for everyone," Superintendent Dr. Edward Zuniga said. "We are proud of their leadership and are grateful for the contributions they've made to our District."
Since 1981, Kerr has dedicated her career to improving the lives of adults through education, advocating for adult education locally, regionally and at the state level. She serves on a state adult education task force and organizes regular meetings where local adult education directors discuss current issues. Kerr leads a team at EMRAS that lifts up students and provides them a dynamic, relevant education.
A fixture at Arroyo High School, Logan began working for EMUHSD in the 1980s, serving as an employee transportation coordinator, California School Employee Association Chapter 11 school site representative, executive board secretary and a negotiation team member.
Oliva began his career at El Monte Union as a math teacher, eventually becoming the math department chair. Oliva was an academic counselor at El Monte High School for 14 years before becoming a counselor administrator for El Monte-Rosemead Adult School in 2003. He is in charge of the English as a Second Language (ESL) program at EMRAS.