Return to Headlines
A Message from the Superintendent on the Passing of Fernando R. Ledesma
Dear El Monte Union Community,
It is with a heavy heart that we announce the passing of a beloved member of our community and a dedicated educator, Fernando Robert Ledesma. Mr. Ledesma peacefully left us the morning of Sept.11, surrounded by his family and loved ones.
Mr. Ledesma was more than just a retired educator; he was a pillar of knowledge, compassion, and inspiration to generations of students and educators throughout El Monte Union. He devoted his life to shaping young minds, instilling a passion for learning and leaving an incredible mark on our community.
Mr. Ledesma's career span of over 38 years at the District began as a Spanish teacher at Arroyo High School in 1959, where he also coached track & field and cross country. Following his teaching assignment, Mr. Ledesma served as a school and District administrator in several capacities. In 1973, he became principal at Mountain View High School and was later promoted to Assistant Superintendent of Adult and Alternative Education in 1986. He retired from that position in 1997.
In 2005, El Monte Union's Board of Trustees renamed Valle Lindo Continuation High School to Fernando R. Ledesma High School, honoring Mr. Ledesma's legacy and impact on the District community. Mr. Ledesma was appointed as the interim principal at F.R. Ledesma High School for nine months. Over the past 18 years, Mr. Ledesma frequently visited the campus where he could be found interacting with students and staff.
Mr. Ledesma worked tirelessly to make our community a better place, touching the lives of countless individuals. His leadership and dedication to the El Monte Union High School District serve as an inspiration to us all.
As we mourn the loss of Mr. Ledesma, let us also celebrate the rich legacy he leaves behind. If the family wishes to provide details regarding a memorial service or honorary gifts, we will share that information in due course.
Please keep Mr. Ledesma's family in your thoughts and prayers during this difficult time, and join me and the El Monte Union community in honoring the memory of a remarkable educator who will forever remain in our hearts.
Sincerely,

Edward Zuniga, Ed.D.
Superintendent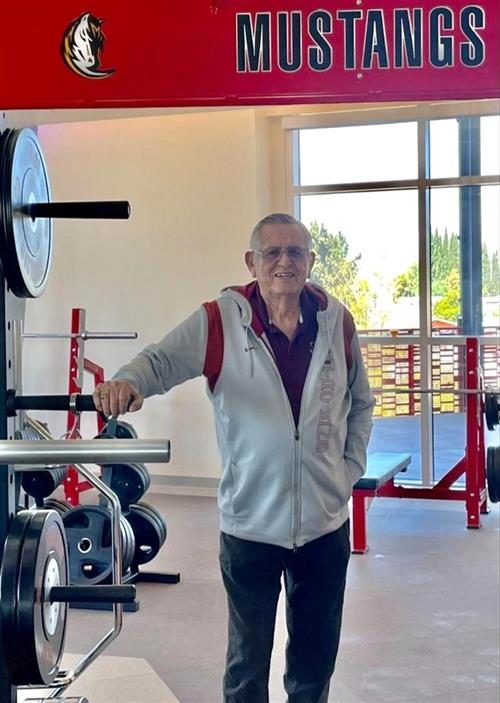 Fernando R. Ledesma is all smiles as he looks inside the new Multipurpose Building and Gymnasium at his namesake school in December 2022. The school was named in his honor in 2005.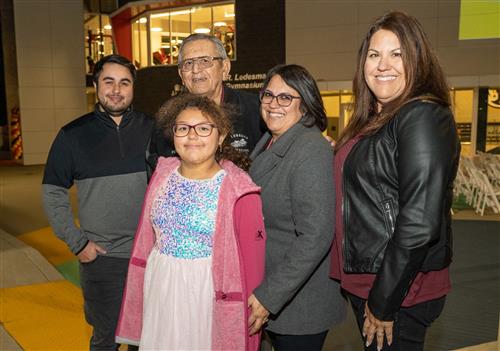 Fernando R. Ledesma (middle left) celebrates the grand opening of the new Multipurpose Building and Gymnasium at his namesake school with his grandson Samuel Holt (left), granddaughter Victoria Bartolotti (front center), FRLHS Independent Study teacher and daughter Lisa Holt (middle right) and retired FRLHS Peer Educator and daughter Helen Bartolotti (right) during a ribbon-cutting ceremony on Dec. 7, 2022.