Return to Headlines
El Monte Union Swears in New and Returning Board Members, Reorganizes Officers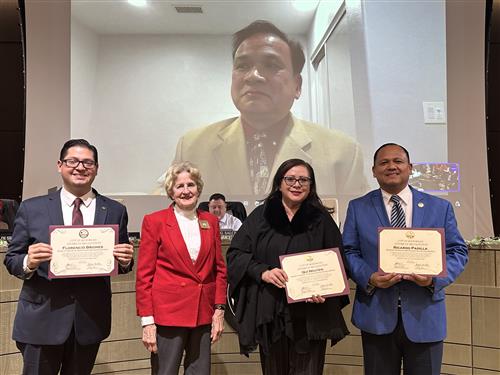 City of Rosemead Councilmembers Margaret Clark and Sandra Armenta present certificates to newly elected EMUHSD Board member Qui Nguyen and re-elected Board members Florencio Briones and Ricardo Padilla during the District's swearing-in ceremony on Dec. 14. Pictured from left to right are Briones, Clark, Nyugen (top, on screen), Armenta and Padilla.
El Monte Union High School District hosted a swearing-in ceremony for its newly elected Board Member Qui Nguyen and re-elected Board Members Florencio Briones and Ricardo Padilla during its Dec. 14 Board of Trustees meeting.
During the ceremony, Nguyen, Briones and Padilla took the Oath of Office, making a promise to accomplish all duties they are responsible for as Board members and to uphold the values of the District throughout the next four years. The District also held a farewell recognition to celebrate outgoing Board member David Diaz. In addition, outgoing president of the Board Carlos Salcedo was presented with a plaque to recognize his leadership over the past year.
The Board of Trustees reorganization followed the ceremony, with Padilla of Trustee Area 5 selected to serve as president. Professor Esthela Torres de Siegrist of Trustee Area 2 was selected as vice president and Nguyen of Trustee Area 3 was selected as Clerk. Briones of Trustee Area 4 and Carlos Salcedo of Trustee Area 1 complete the Board.
Nguyen, a Vietnamese refugee and a resident of Rosemead for 45 years, is the District's first elected representative from Rosemead in more than a decade. While his children were enrolled in Rosemead High School (RHS), he served as president of the School Site Council, Parent Teacher Association and the District English Learner Advisory Committee. He recently served as the Rosemead Park Commissioner, mentoring at-promise students, and as an advisor to the senior group at Rosemead Park.
"As an English Language learner, I have always advocated for education and am heavily involved in my community and schools," Nguyen said. "My hope is to continue to build on the progress that the El Monte Union High School District has made and to serve the best interest of our students every day."
Briones is a longtime member of the District community and a graduate of Mountain View High School's Class of 2000. He was first elected to the Board in 2017 and has since served as president for two terms.
El Monte Union High School District Board of Trustees member Florencio Briones takes his oath of office before distinguished guests, his family and community during the District's swearing-in ceremony on Dec. 14.
"Thank you everyone for being here today, it is an honor and a privilege to serve the El Monte Union community and represent our students," Briones said. "During my experience on the Board, it was one of the most trying times dealing with the pandemic but, I am proud to say that because of our leadership, collaborative work, the strength of our teachers, students, classified employees and with the support of our families, we have been able to move forward and achieve. There is a collective vision throughout this District and Board, and I look forward to continuing to collaborate on putting the success of our students at the forefront of everything we do."
Padilla is also a longstanding member of the EMUHSD community; he attended Rio Vista Elementary and Charles E. Gidley Middle School before graduating from RHS in 1991.
For 23 years, Padilla has worked in education as an instructional assistant, English as a Second Language teacher, Advancement Via Individual Determination coordinator and an outreach consultant for child welfare and attendance.
Padilla has received many awards for his work and currently serves as the president for the El Monte-South El Monte Emergency Resources Association, a non-profit organization that focuses on helping struggling individuals and families.
"Thank you to everyone for their support and to those who have allowed me to serve a third term on the Board of Trustees for the El Monte Union community," Padilla said. "Being a product of this District brings me immense pride. As an immigrant, an English Language learner and a student that received free and reduced lunch, there is not a day that goes by where I take the opportunity and responsibility that has been bestowed onto me for granted."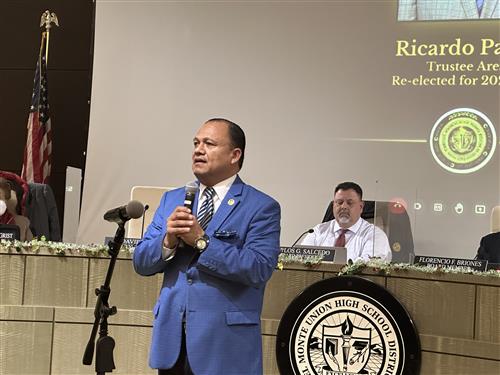 El Monte Union High School District's newly elected Board of Trustees president Ricardo Padilla gives a speech to share his gratitude and experience before distinguished guests, his family and the community during the District's swearing-in ceremony on Dec. 14.
Distinguished guests and local officials were present to recognize each Board member with certificates and words of appreciation. Community members and family members were also in attendance to show their support.
"It is not an easy task to take a seat on the Board of Trustees but, we thank these individuals for their time, leadership, resiliency, hard work and patience when running meetings and making decisions for our school community," Superintendent Dr. Edward Zuniga said. "Congratulations to Mr. Nguyen on his election; we look forward to working alongside him as part of the El Monte Union team and thank you to our re-elected members Mr. Briones and Mr. Padilla for their outstanding service to our students and families. As we bid farewell to Mr. Diaz, we want to extend our deepest appreciation for his endless dedication to the District and initiatives for clean air and safe transportation."
Tiếng Việt: https://bit.ly/3V0hv2B
Español: https://bit.ly/3BHNJJ4
中文: https://bit.ly/3FE7hzz