Return to Headlines
EMRAS Alumni Spotlight (Nhung Tu)
EMRAS Alumni Spotlight
Here at El Monte-Rosemead Adult School we are always joyous to learn of our alumni's success. It makes us proud to know that the knowledge we instill in our students helps them start a career and become successful individuals. If you are an EMRAS alumni please share your story with us. You may share it with us through any of our social media sites Facebook, Instagram or Twitter our handle is @EMRASedu or you can email it to emras@emuhsd.org.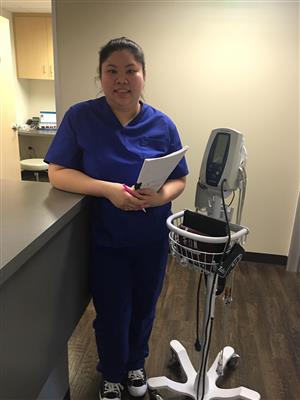 Nhung Tu ready to work
Nhung,
Congratulations on your new job, we wish you the best and continued success. Keep up the great work!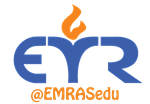 EMRAS Team
10807 Ramona Blvd.
El Monte, CA 91731
---
Below you can read a letter of gratitude sent to Mr. Garcia one of our Medical Assistant instructors from alumna Nhung Tu, who completed our Medical Assistant Sequence.
---
Dear Mr. Garcia,
My name is Nhung Tu,
I took the Medical Assistant Back Office sequence at EMRAS. I still can't forget the first day of school; I remember I cried because of how hard the Anatomy & Physiology course was. I remember how difficult it was going to school full time (5 days a week) and working on the weekends. I thought it would never come to an end and that I would never achieve my goal. During this time I was thinking of dropping out because of my financial responsibilities and taking a two hour bus ride to school wasn't helping. However, I understood that nothing in this world is handed to you, so I knew I had to work hard. Through hard work and perseverance I managed to complete the sequence. Every step of the way the teachers of EMRAS encouraged and pushed me to bring out the best in me. I took back office and lab classes with you and I want to thank you for continuously encouraging me to keep attending and complete my school work.
Prior to assigning me to an externship you, interviewed me and asked if I was willing to go to an externship at a location that would require me to rotate from office to office; I thought it was a weird question but of course I said yes. After the interview I remember you mentioned that the externship site was new and wasn't looking to hire anyone but to do my best so that I may leave a good impression. You advised me to just be myself; I now understand why you gave me that advice you knew I was going to fit it in.
At first, the externship was a little hard I was the only Vietnamese person there and being relatively new to this country made things a little bit harder. During my externship they were showing a new doctor his office and the facility manager pointed to me and told him "this is going to be your medical assistant, when you start." I was so nervous, so I called you right away to give you the news, and your response to me was "you're a good worker, and easy to train that's why I sent you there to get hired." When I completed my externship hours this past Friday, the manager handed me an application, interviewed me, and told me "You start Monday!" I called my family right away and I let them know I was starting a new job, and they are so proud of me. I am so happy that my career/life is moving forward.
I am now a certified Medical Assistant, and I greatly appreciate all the things my teachers at EMRAS did for me!
Mr. Garcia I only wish that all my classmates have the same amazing opportunity and that they are offered a job after they finish their externship.
Once again thank you Mr. G
Sincerely, your best student
Nhung Tu
P.S. I no longer have to rotate from office to office!
---